flagOPPO Reno2 Z has recently been launched in India. This is the next smartphone series of the flagship smartphone series Oppo Reno has been launched this year by the Chinese smartphone company Oppo. In the Oppo Reno 2 series, three smartphones Oppo Reno 2, Oppo Reno 2Z and Oppo Reno 2F have been launched. Today we are going to tell you about Oppo Reno 2Z Review in this article. If you liked this article, you should definitely comment about it.
The OPPO Reno2 Z is made available for first sale. This smartphone has been made available for sale from September 8, while the Oppo Reno 2 will be made available for sale from September 20. At the same time, Oppo Reno 2F will be made available till the end of the festive season till Diwali. After using this smartphone for the last few days, today we have brought a review for you.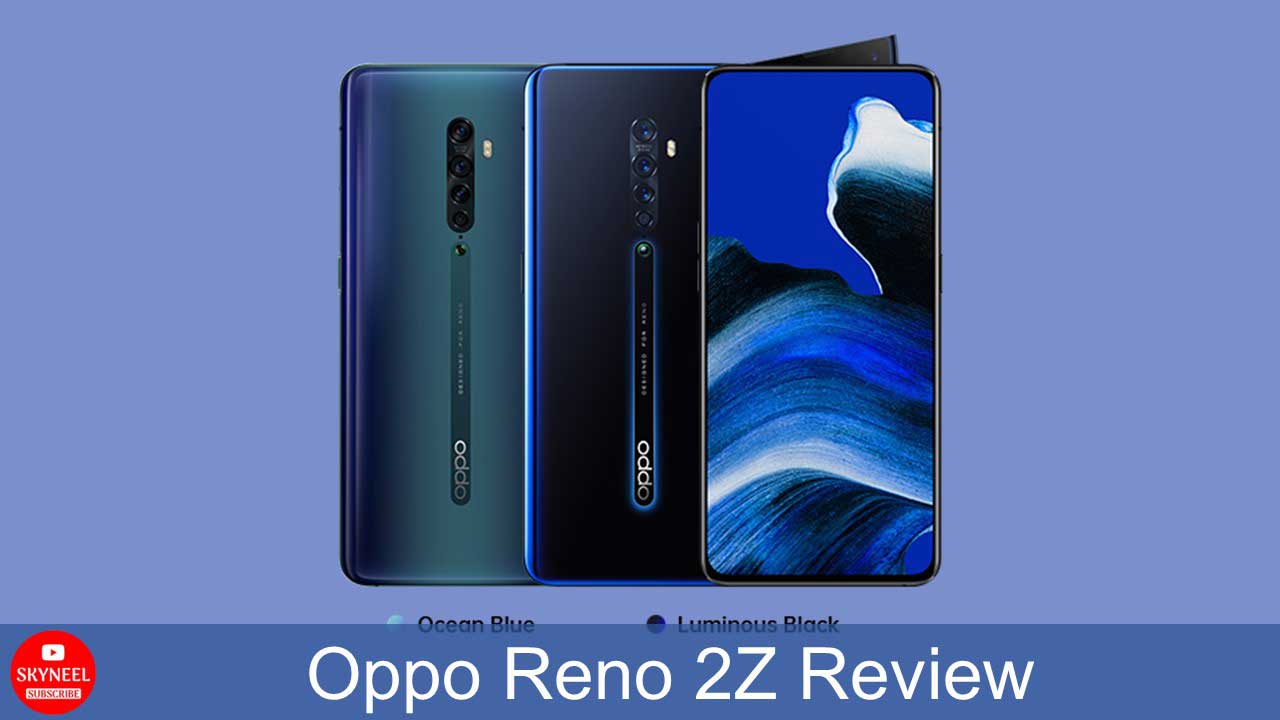 Must Read: Vivo S1 Review: Stylish Design Best Mid Range Smartphone
Design
First of all we will talk about its look and design. The look and design of the Oppo Reno 2Z has been given a very premium. After seeing it, you can say that it is a flagship device. On its front, you get a close bezel lace design. According to the company's claims, you get a screen-to-body ratio of over 91 percent. The Oppo Reno 2Z front and back have twistlight mist finishing.
The phone comes in two color options Luminous Blue and Sky White. You may like both colors. The device I have is a bright blue device. Its back panel gives a very shining look, even if fingerprints sit on its back panel, you can clean it easily. I would advise you to keep the cover that comes with the phone, so that you do not have to clean the device again and again. The back panel is protected with Corning Gorilla Glass 5, due to which it gives a glossy look.
Talking about the front panel of Oppo Reno 2Z, its front panel has Corning Gorilla Glass 5 Protected which prevents its screen from breaking. Notch is not given in the front panel of the phone. In this, the company has used a pop-up selfie camera like Oppo K3. Its pop-up camera aligns in the center of the phone. We will talk further about its selfie camera.
Currently, when talking about its design, the power button is given to its right. You can also use this power button to lock the screen. The SIM card slot is placed just above the power button, with the volume rocks on the left side of the phone. The phone can be fitted with two 4G SIM cards and an external memory card.
Display
The OPPO Reno2 Z features a 6.5-inch AMOLED Panaromic display. The phone's display is so big that you would like to watch online video content streaming in it. The screen resolution of the phone's display is 2,340 x 1,080 pixels, which supports 394ppi. In this you get 16 million color reflections. It has a brightness of 430nits while watching video, which gives you a better viewing experience. This is a great smartphone in this range for watching full screen videos.
Must Read: Realme 5 review: powerful smartphone in the range of Rs 10,000
Camera
Finally, we talk about the Reno 2Z camera, a quad camera is installed in its back. All the cameras around the phone align vertically. Under the camera, you are given the OPPO logo with 'Reno for Design'. Talking about the configuration of the phone's camera, it has four cameras of 48 + 8 + 2 + 2 megapixels. The front of the phone has a 16-megapixel pop-up selfie camera. The Oppo Reno series is primarily known for camera features. In this case, let us know how the camera of this smartphone is.
Primary Camera
Its 48 megapixel main camera has f1.7 sensor which can click up to 10x zoom. In its main camera, you are given modes like Night Mode, Panorama Mode, Expert or Pro Mode, Time Lapse and Slow-Mo. The rear camera of the phone also supports portrait and beauty mode.
Other Cameras
Talking about the second rear camera of the phone, it has an 8 megapixel super wide angle camera, whose sensor has been given f2.2. Apart from this, two other cameras have also been provided, in which a 2 megapixel depth sensor and a 2 megapixel micro sensor have been given. The phone's depth sensor has f2.4 aperture, while the micro sensor also has f2.4 aperture.
With the rear camera of the phone, you can capture 4K quality video at 30fps. Slow motion video recording is also provided in the phone. I am very impressed with the rear camera of the phone, the rear camera of the phone can click the picture of the best capture especially in low light. Artificial intelligence has been used in this for a photo taken in the dark, which enhances the picture.
Selfie Camera
Talking about the phone's selfie camera, it has a 16 megapixel pop-up camera. You can also shoot high quality HD video from the phone's front camera. Social media lovers will love its selfie camera. Beauty modes equipped with artificial intelligence are also provided in the phone's selfie camera. Talking about the pop-up mechanism used in the phone's selfie camera, its pop-up camera has been given free fall detection. That is, even if this smartphone accidentally falls from your phone, but its pop-up mechanism will automatically turn it off.
Must Read: Google changed official name of Android Q to Android 10
Performance
After the display and design, the performance of any smartphone is talked about before buying it. Oppo Reno 2Z also proves to be a better device in terms of performance. The phone comes with 8GB of RAM and 256GB of storage. That is, you can experience high graphics gaming and multi-tasking in it. I had no problem playing high graphics games like PUBG, Apex Legend in the phone. The MediaTek Helio P90 Octacore processor has been used in the phone. It is MediaTek's high end processor that enhances the performance of the device through multicore.
Apart from the processor, it has a 4,000mAh battery, which has become common for high end smartphones. Despite multi tasking, the phone's battery runs smoothly for 1 day. At the same time, if you use more or less in standby mode then the time of 2 days is over. The phone has VOOC 3.0 charging support. Talking about the operating system, it has ColorOS 6.1 OS based on Android 9 Pie.
Our decision
Overall after reviewing this smartphone, I felt that there could not be a better smartphone at a price of Rs 29,999. From its look and design to camera performance and multi-tasking is quite impressive. The best part is that this phone comes with 8GB + 256GB storage, which is rarely seen in this budget smartphone. You can call it a premium smartphone priced below Rs 30,000.
Must Read: Oppo K3 vs Realme X: Who is better?
In this article, we have told you about Reno 2Z Review. If you liked this article, you can also like our Facebook page and also subscribe to our YouTube channel. If you have any problems related to this article, you can tell us by commenting.