Google announced on Thursday that its next generation mobile operating system will be named Android 10, not Android Q. "As a global operating system, these names should be something that is clear to everyone in the world and everyone can relate to it," said Samir Samat, vice president of Android Product Management, in a blog post. In such a situation, this number will be used for the next version of Android, and will be known as Android 10. We hope that this change will help to issue an easy name to our global community. We are giving you complete information about Google changed Name Android q to Android 10.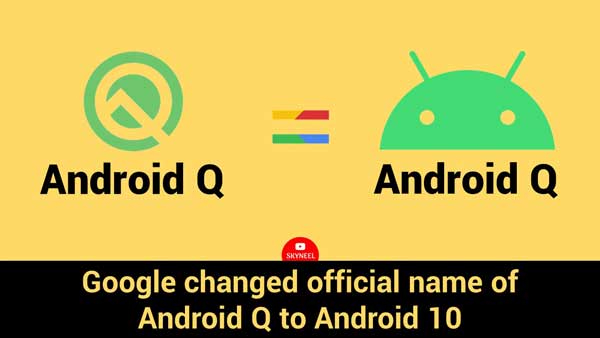 Google has released the official name of Android Q, breaking the decade-old tradition. All the operating systems launched before Android Q are to name a few sweets. This time, Google named it Android 10, not naming Android Q on a dessert. The new name has surfaced in a video released from the official YouTube channel of Android.
Must Read: How to Know Your Phone Number Blocked by Someone else?
Google introduced Android Q at Google I / O held this year. This latest operating system could see many upgrades compared to the operating system launched last year. It has several features equipped with Artificial Intelligence, including System Wide Dark Mode. Android 10 will officially start rolling out for smartphones by the end of this year. The new operating system can be launched first for the Google Pixel 4 Series. This operating system will be rolled out for devices based on the Android One platform.
Earlier, it was speculated that Android Q could be officially named as Quince Jelly. Like Apple's device in Android 10, the gesture bar is given below. Swipe up and hold, you can go to the residual used app. For this you have to scroll left or right. To switch to the app, you must swipe left or right. Google has added a smart reply feature to call pick and disconnect for Android devices. This feature will be able to reply to any message in your place. Google has named this feature as Live Relay. This live caption will be helpful for those who cannot speak and cannot communicate. This feature will identify information that is more important than the use of machine learning, and will also ignore messages that are not necessary.
Android logo will also be updated
Under the new idea, Google is also going to update the Android logo. This logo will be in a more modern and accessible form. No release date has been revealed as to when the new software will be available, but according to the post it will be released in the coming weeks with the final release of Android 10.
Must Read: Xiaomi vs Realme rivalry in Indian Smartphone Market
The tradition of keeping the name sweet every time
So far, Google has alphabetically changed every new version of its Android. The biggest feature of these names was that they were associated with something sweet, for example, the older Android version was launched from P and was named Pai. At the same time, the first version was launched with O and named Oreo, a type of cookies found in the market. The names Nougat and Marshmallow were also seen earlier, but now Google has decided to name the number after leaving the business.
Many special features coming to Android 10
Let us know that Google released the first preview version of its software in March and demos of many of its features were also given at the I / O 2019 Developer Conference held in May. Of these, the most special feature of Android 10 was to keep private information private. Yes, the new privacy features of Android 10 will come with location control and dedicated privacy settings. Additionally, Android 10 will support a foldable screen, faster app launch and full-on gesture navigation. Not only this, you are also going to get bubble notification and minor line caption feature in the new operating system.
Many companies are working with Google
Many companies are working on a beta process with Google to design their devices according to the new update. These companies also include Huawei and OnePlus, whose new devices are already certified for 10 beta programs. Although Google has not given any timeline for this, Nokia is preparing to update its Nokia 7.1, 8.1 and 9 PureView phones in the fourth quarter of 2019.
Must Read: Smartphone can harm your neck and eyes disease, be careful
In this article, we have told you about Google changed Name Android q to Android 10. If you liked this article, you can also like our Facebook page and also subscribe to our YouTube channel. If you have any problems related to this article, you can tell us by commenting.