Realme has just launched its latest smartphone Realme X in China, Realme's mid-range flagship device can be launched soon in India. In this segment, Realme has launched this phone, its direct competition is from Xiaomi's Redmi Note 7 Pro. Where Redmi Note 7 Pro has attracted users with its features and specifications, Realme X will also try to make its place in the market with Redmi Note 7 Pro. Today we are going to tell you about Realme X vs Redmi Note 7 Pro. Let's know which phone users are giving more premium features in lower prices in these two phones. Tell us what you think of this article by commenting on us.
Display
Realme X has a 6.5 inch HD + Bezel less AMOLED display with 2340X1080 pixel resolution. This is Realme's first smartphone in which the company has given full screen display. On the other hand, with the 19.5: 5 aspect ratios in the Redmi Note 7 Pro 6.3-inch full HD + waterdrop nach display is given.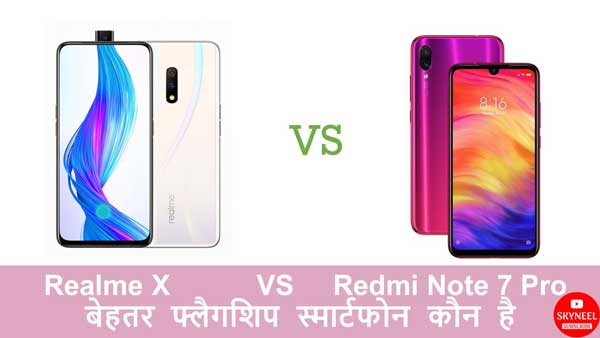 Must Read: How To Protect Your Android And IOS Device With WhatsApp Hack
Front camera
The Redmi Note 7 Pro camera for Selfie is inside the Water-drop Notch, while the Realme X pop-up comes with a selfie camera.
Back camera
Smartphone's camera has a lot to mean for users. Keeping this in mind, the company has given a 48-megapixel primary and 5-megapixel secondary depth sensor at the rear of the Realme X. Redmi Note 7 Pro also comes with a 48 megapixel + 5 megapixel dual rear camera setup.
Fingerprint sensor
In Realme X, there is an in-display fingerprint sensor present in the phone's OLED display. Speaking of the Redmi Note 7 Pro, in this case, the capacitive fingerprint sensor has been given on the back panel of the phone.
operating system
Realme X works on ColorOS 6.0 operating system based on Android 9.0. Talk about Redmi Note 7 Pro, based on MIUI 10, Android 9 has been given.
Processor
The Realme x X has a Snapdragon 710 processor with Adreno 616 GPU. Due to this processor, PUBG and Fortnight games play well on the phone. The Redmi Note 7 Pro comes with Adreno GPU 612 and Snapdragon 675 processor. In the case of processing, the processor of Radmi Note Pro 7 is slightly faster than the Realme X.
Must Read: How to get the best audio quality in your TV
Battery
To power Realme X, there is a 3,765 MAH battery that comes with VOOC 3.0 Fast Charging Technology. Radmi Note 7 Pro Qualcomm's Quikcharg 4.0 comes with 4,000 mAh battery with fast charging technology.
Cost
Realme X's 4 GB RAM + 64 GB storage variant in China costs 1,499 yuan (about 15,000 rupees), 6GB RAM + 64GB storage variant costs 1,599 yuan (about 16,000 rupees) and 8GB RAM + 122GB storage variants The price is 1,799 yuan (is approximately 18,000 rupees). Can not say anything about the value of this phone in India. Talking about Redmi Note 7 Pro, its 4 GB RAM variant comes in at Rs 13,999 and variants of 6 GB RAM comes in at Rs 16,999.
In this article, we have told you about Realme X vs Redmi Note 7 Pro. If you liked this article, you can also like our Facebook page and also subscribe to our YouTube channel. If you have any problems related to this article, you can tell us by commenting.