Redmi Note 11 Pro+ 5G – In the third month of 2022, we are moving full force towards better connectivity and bandwidth. Actually, 5G service is going to start in India soon. So now is the right time to get your gadgets equipped with future-proof 5G compatibility. Considering the speed at which telecom service providers have started 5G trials in some cities across the country, it seems that 5G smartphones are no longer a luxury but a necessity. Today we are going to tell you about How to Redmi Note 11 Pro+ 5G in this article. If you liked this article, then you must comment about it.
After all, having a phone that supports 5G networks will make life a lot easier in the future, supporting quick downloads, smooth streaming, and fast uploads. If you are one of those people who are a little hesitant to go for a 5G smartphone, as it is very expensive, and even if you find an affordable one, it seems that the feature will have to be compromised. Or the phone will break. Downgraded. So the Redmi brand, which is loaded with flagship-like features at a reasonable price, has come up with a great 5G smartphone in the market.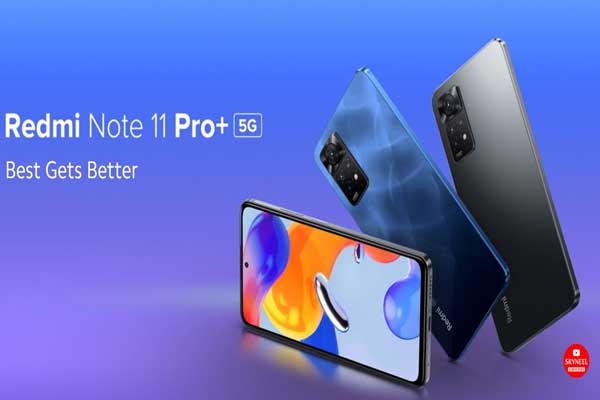 Must Read: WhatsApp Code Verify – Know how Code Verify feature works
Redmi Note 11 Pro + 5G smartphone is part of the company's Redmi Note 11 Pro series and this Redmi 5G smartphone has been launched with an unbelievable price of around 20 thousand rupees, in which the company has not compromised on the features. Let us tell you about the main features of Redmi Note 11 Pro Plus 5G:
 Advanced 5G Processor
Redmi has launched its Redmi Note 11 Pro Plus 5G smartphone with advanced 5G processor and seven 5G bands. At the same time, one thing that is worth noting here is that even if we look at the higher priced smartphones, they support only two 5G bands.
 Flagship Camera
The phone comes with a 108MP Pro grade camera which is a key feature and is not seen in this price range. Looking at the industry standard, Redmi has also called it a high-resolution image sensor.
 AMOLED screen
The screen quality of the Redmi Note 11 Pro+ 5G is the best as it sports a 6.67-inch FHD+ AMOLED dot display. The screen enhances the vibrancy, animation, crispness and depth of the video as well as the colors.
 Great refresh rate and processor
The screen of Redmi Note 11 Pro+ offers 120Hz refresh rate which makes the display smooth and super fast without any input or animation lag. Apart from this, Qualcomm Snapdragon 695 6nm architecture processor has been given which enhances the performance of the phone.
Must Read: Netflix Free Offer – Watch series and movies for free without subscription
 15 minutes charge time
67W Turbo Sonic Charge 3.0 is the most important feature of the phone which makes it different from others. With this advanced feature and powerful 5000mAh battery, the phone is ready to charge for a full day in just 15 minutes. This is probably the only phone in this range that offers such a fast charging experience.
By now you must have come to know that this phone is packed with features, yet it comes at a very good price. If you want to make your phone future-proof, but are unable to find such feature-rich smartphones in this price range, then you can consider this smartphone. For more information about Redmi Note 11 Pro Plus, you can also visit Redmi's website.
You can also like our Facebook page and subscribe to our YouTube channel. If you have any problem related to this article, then you can tell us by commenting.