Google introduces new version Android. It is called Android kitkat 4.4. The new version of android is finally available for folk. The biggest attraction is you can run this version in your old device (low hardware).
Android's this new version is very effective in multitasking improvements and it can also access in only 512 MB of RAM. Google started with android version with Ice-cream Sandwich, than it launched Jelly bean, which continued with next three decimal version of android. Now Google came with again a sweet version just like candy KitKat 4.4.
Advancements in Android KitKat 4.4 :
New app Hangouts
Google upgraded the Google talk and messaging voice and texting apps with a new app Hangouts in Android Kitkat 4.4. Hangouts put SMS, MMS, video calling and group chat into a single tab.  Android 4.0 or higher running Device, Hangout provide free messaging and voice calling with Wi-Fi and data connections. Through Hangouts one can send location data, it supports Emoji icons and works with instruments running iOs.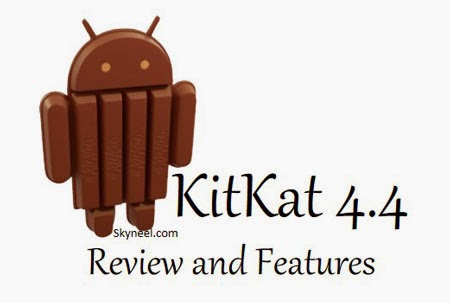 Improved contact list
With this version one can easily search contacts. In spite of searching through all contacts to find the current target, this app ready the lists of the contacts which frequently used. The dialer also can do location-based searches by business type with the help of Google search built in. This app also allows numbers based on words.
Must Read: Android 4.2 compatible HDTV A new flavor of Jelly Bean
Printing Power
Google introduces a native printing framework and APIs for managing printing jobs in Kit kat, no extra app is required for printing to cloud-enabled printer. Users of Android kitkat can easily take print out directly to any printer with Google Cloud Print.
Updated Caller ID
This new app can also link to the web while receiving calls. It can taps caller Id information of incoming callers through using Google Maps API that are not in the contact list of one's phone. It also shows the information of caller's Google Maps business profile.
Bluetooth Message Access Profile
This new version also supports the Bluetooth Message Access Profile, which can be used to set link apps to the display and audio system of cars equipped with this facility. In this access profile also explain message notification, browsing methods, SMS etc.
Immersive Display
In previous versions of Android, while playing games or movies those instructive status bars and navigations buttons remains on screen, which irritates lot sometimes. But in this new version it hide all the buttons and status bar and you can enjoy full screen. Once you are done, just swipe the edge of the screen to bring back your status bar and navigations buttons.
Improved Memory management
This new version Kitkat designed to access on devices even with as little as 512MB of RAM. Google improved memory management to Android 4.4 and will be providing developers and OEM manufactures with tools and options take advantage of these improvements.
Two new composite sensors
This new app brings platform to support for two new composites sensors, step detector and step counter. This feature allows users to track steps when they are walking, running, climbing stairs etc through apps.
Must Read: Android 4.1, Jelly Bean Fast & Smooth with Face Lock
Emoji's a new fun feature
Google now added a new fun feature named Emoji in Google keyboard. It is a Japanese term for cartoonish ideograms and emoticons seen in text messages and websites.
Drop the Box
Kitkat 4.4 now can directly open and save files and data stored in cloud based systems like Box. It is also useful for the files which is worked in Quick office.