As smartphones are being popular in India, people are attracted towards expensive devices. People are purchasing very costly smartphones. Even their whole month salary is used in buying expensive phones. Along with Apple, Sony and Samsung, Karbon, Micromax and Intex also making expensive handset. When you buying any expensive smartphone then the main question is arise should we get insurance for our smartphones?. The main thing is that of this question if you lost your expensive smartphone and your smartphone will be insured then there is no need to worry because company will provide you latest handset in this situation. 
In India people are not even interested in brand new mobile, but they are very keen in second hand mobile set too. According to an authentic site business of second hand mobile is about 400 crore in India. Cases of stealing mobiles and losing them also increased now days. Sometimes cause of big size of phones people can't take care of them or sometimes cause of their metallic body phones slip down from their hands. Anytime one can lost their phones. So now day's security of phones also important. In this article we will discuss about insurance of your handset devices.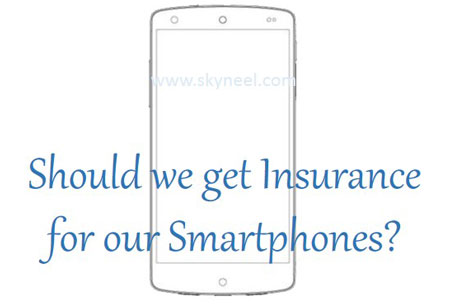 Trend of Insurance for our Smartphones
Now day's trend of gadget insurance is increasing in India. In gadget insurance one can not only get security from losing or stealing phones but accidental damages also included in it.If you are planning to buy an expensive phone that it is a good decision to get insurance of your phone.
What is mobile phone insurance
It can be called two sided benefit. In this users can get cover from technical drawbacks and accidental damages to stealing of phone included. Many mobile companies give one year warranty with smartphones. But mostly problems started in smartphones after one year. In this situation after warranty ended, users have to pay all charges to repair their smartphones. These types are problems can be avoided by extended warranty.
What is extended warranty
Many smartphone companies are now days taking care of extended warranty. By the help of extended warranty user can get insurance cover even after one year warranty ended. It is kind of double sided security. Users have to give premium for extended warranty. For this users have to buy extended warranty in three days after buying phone. Repairing of smartphone is very expensive. So this extended warranty is very useful.
Theft cover
This is a very old service of insurance companies. Insurance companies give theft cover to smartphones too like car, bikes or any other expensive things. Theft of mobiles are become so common in India. In this situation user should take theft cover to protect their mobile.  Famous companies like Nokia and The Mobile Store handset retailers gives theft cover plans to users.
Must Read: Simple tips for make your Android phone faster
Cautions to take care in mobile phone insurance
In mobile phone insurance cover user get fire protection, theft cover, accidental damage and protection from any other technical error. May be it is seeming so common thing of taking gadget insurance but some time it may cause of users problem. So it is very important to read carefully terms and conditions of insurance before taking insurance of your phone. Sometimes mobile companies made clauses which can surprise users.Like in theft cover if mobile is stolen from empty car then insurance company doesn't pay for that. If causes of losing phone is user's carelessness then mobile company doesn't cover that.
Claim of mobile phone insurance
If mobile phone is loss or theft then before user claim for that user have to• First of all user have to register FIR in nearest police station.• At the time of FIR user should have bill of mobile and copy of insurance too.• Only after that with all necessary documents user can claim for insurance.• User have to claim for mobile phone insurance for theft in 48 hours.
Must Read: All queries of math's can be solved by Wolfram Alpha app
Premium rate
There may be difference between premium rates of different companies. Mostly companies gives gadgets policies according to mobile phones. Generally according to price of mobile phone at every 1000 rupees 15-20rs have to pay as premium. For example if any mobile phone's price is 40000rs user have to give about 600-800rs as premium per month.Along with it depreciation also included. If case file in 90 days after buying phone then no depreciation will be charged. If this time duration is of 91 to 180 days than 25% depreciation will be chargeable. And if more than 180 days, than half rate of mobile phone is charged.