Micro-blogging website Twitter has released a new update globally, which will be a new kind of communication tool on this platform. With this, Twitter users will be able to control who can retweet and reply to their tweets. Many people on Twitter are victims of trolling and bullying. To avoid this, Twitter has released a new update. Twitter's latest update will be for both iOS and Android users. Today we are going to tell you about Twitter's new update, control tweets and replies in this article. If you liked this article, then you must comment about it.
Who can reply to your tweets
A Twitter user must first tap on the Compose Tweet button.
After that, you have to tap on the globe icon button, from where you can choose who will be able to reply to and retweet this tweet. Three options will be given for this.
One has to choose between these three options.
However, people who cannot reply to your tweet can still view, retweet, and share your tweet. Also, once you publish a tweet, you cannot change the response settings of that tweet.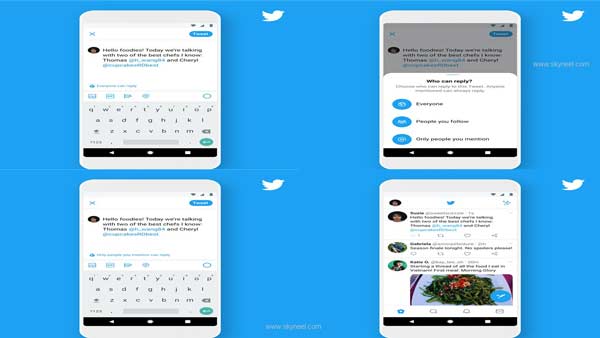 Must read: 25 Top most latest Twitter shortcut keys
Which you can answer
In the Compose screen, you can see the conversion people, who you will answer. Click to answer, which will bring up an editing screen that lists people who may be part of the conversation. Names of 50 people will appear in the interview.
● Add people to the conversion – swipe down to close the editing screen, and type their username in your tweet.
● Remove people from conversions – remove users from the list of changes, click or tap the checkmark icon to delete users. Once, when one is deselected, the checkmark icon will move.
● Blocked accounts: The accounts you blocked will appear in the recipient's list, and will also show that you have blocked them. From the edit screen, by clicking or tapping the checkmark icon, you can exclude blocked accounts from conversion.
How to see participation in participation
You can see the participant of your tweet conversion in your home timeline, profile page, notifications, or tweet details. To view participant names, bios, and / @ usernames: Tap or click to reply … From here, you can see all those included in this answer. You can also follow or unfollow a Twitter user included in this list. Just as you can see all likes and retweets for a tweet, you can also see how many people are involved in the conversion from the reply account.
Must read: Twitter launches fleets feature in India, will be able to communicate in a new way
In this article, we have told you about Twitter's new update, control tweets and replies If you liked this article, you can also like our Facebook page and subscribe to our YouTube channel. If you have any problem related to this article, then you can tell us by commenting.