WhatsApp has no facility to read officially deleted messages. In such a situation, third party apps have to be helped. WhatsApp is the world's most popular instant messaging app. You will know about the Delete for Everyone feature of WhatsApp. But do you also know that through a trick you can also read deleted messages.
Must Read: Wi-Fi Speed ​​- Working from home but not giving speed, follow these tips
WhatsApp is the world's most popular instant messaging app. Facebook-owned company WhatsApp brought a delete feature for its users in the year 2017, in this feature, users can delete their own sent messages.
How to delete deleted messages on WhatsApp Android app
Using this feature, not only messages but also photos and videos can be deleted from WhatsApp forever. Which means, no one can see the deleted message, not even you. However, deleted messages can also be viewed.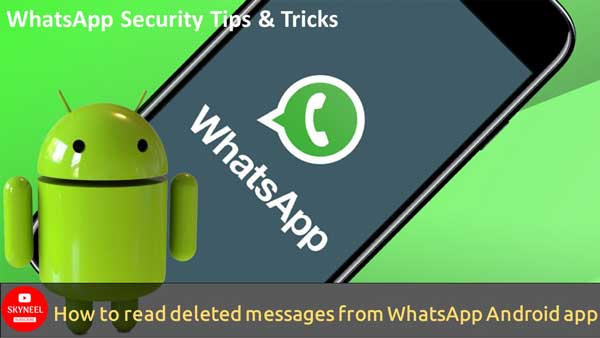 After deleting the message, 'This message was deleted' notification appears there. Yes, there are many ways to do this. We are going to tell you one of these ways in this article.
Must Read: WhatsApp Latest Feature: Identify fake messages WhatsApp
If you are planning to use this method, then keep in mind that such WhatsApp features, which do not officially support the app, have to be paid for access. In this case, the way we are going to tell you, it may be that your personal information such as phone notifications, including OTP and bank details, can get caught by a third party app. Your data will be private, we cannot guarantee it. Use this method on your own risk if you need more.
How to View Deleted WhatsApp Message
Whenever a WhatsApp message is deleted, it leaves the message 'This message was deleted'. If you have an Android phone, then follow these steps and see the deleted message. WhatsRemoved + is a third party app that gives you access to data. Images and videos can also be recovered through this app.
First download and install WhatsRemoved + from Google Play Store.
After installing, open the app. After this, complete the installation process by giving permission to the app.
Return to the app after granting permission. Here you will be asked to choose the app whose notifications and delete changes you want to store.
In this list you have to choose WhatsApp. Tap on YES in the next screen. Tap on Allow to save the file. Now this app is ready for use.
Now whatever WhatsApp notifications will come to you, including the deleted messages … they will all be present in the WhatsRemoved + app.
Must Read: MyGov Corona: Government created help desk for WhatsApp users
This app works only on Android devices. No such app exists for iOS. This is a very good thing in terms of privacy. But if you want to see deleted messages, this is not correct.
We encountered many such apps in the Google Play Store that claimed to do something similar. But none of the apps were better than WhatsupRemoved +. This app works well, but many advertisements in it may bother you. However, you can remove these advertisements, but for this you will have to pay a one-time fee.