WhatsApp's new request account information feature is currently being rolled out to users. Here's how you can watch how to send WhatsApp accounts info request. WhatsApp enable account info request and you can easily download or export your data easily to another application.
If you haven't received the feature yet, it should be available to you within days. Make sure your application is up to date.
Must Read: WhatsApp Fingerprint Lock Feature released Easy Biometric Setup Guide
WhatsApp account info request
"The Request Account Info feature allows you to request and export a report of your WhatsApp account information and settings," said the company on its website.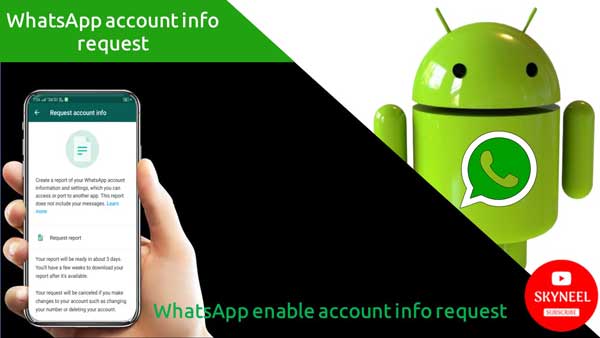 "While your report request is pending, certain account actions, including deleting your account, changing your number or device or re-registering your account, will cancel your request. If your request is cancelled, then you can send another request for the report," said WhatsApp.
Must Read: How To Secure Your Google Account With Android Smartphones
How to Send WhatsApp account info request
Request account info option allows you to create a report of your WhatsApp account information and settings, which you can access or port to another app. This report does not include your messages. This option allows you to share information include your profile phone and group names in which you have been added.
In order to download your account information, go to your profile on WhatsApp.
Step 1: Tap on three top option which is located at top right corner of active WhatsApp window.
Step 2: Go to Settings > Account option. In Account window just tap on the "Request account info" option.
Must Read: Facebook Security Tip – Set up Login Alerts of unrecognized login
Step 3: Now tap on the "Request report" option in Request account info window. The screen show you a notification that request sent to WhatsApp.
WhatsApp will deliver your report approximately 3 days after the date request has been made.
How to downloading and exporting report?
When the report is available, you'll get a notification from your WhatsApp number that "Your account info report is now available." You will receive a WhatsApp notification once your account information report is ready. The report will be available for a limited period of time which is going to be a few weeks. To download the report, take given simple steps:
Step 1: Go to WhatsApp Settings > Account > Request account info > Download report.
Step 2: A ZIP file downloaded at your phone. The ZIP file will come with an HTML file and another JSON file that allows you to transfer the data.
Must Read: How to Turnoff or Stop Autoplaying Video feature in Twitter on Android Phone
Step 3: Once the file download process finished, select Export report
"You'll be unable to view the downloaded report within WhatsApp. Select any of the external applications that appear in your share tray to export the report. For example, you can email a copy of the report to yourself. Because the report has your personal information, you should be careful when storing, sending or uploading it to any other services," the company added.