5G Smartphone: If industry experts agree, then customers will have to wait till 2022 for 5G network on mobile phones. The revolution of 5G smartphone has started in India and many companies are also launching smartphones with latest network connectivity support.
5G Smartphone
The revolution of 5G smartphone has started in India and many companies are also launching smartphones with latest network connectivity support. When the speed of streaming YouTube videos or downloading a file on the Internet will not change in your phone, why are such phones coming now?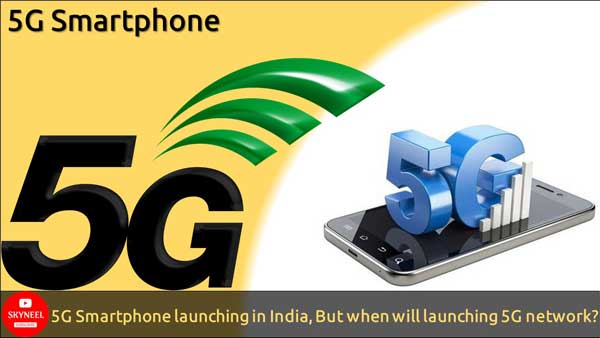 Why are companies selling 5G Smartphones in India when there is no network.
As the name suggests, 5G is the fifth-generation cellular network technology. 5G is promised to deliver data speed at a rate 100 times faster than 4G networks. Importantly, it is designed to transmit data almost instantly with a network latency of less than 10ms.
Google Play Store tips and tricks every Android user should know
Wi-Fi Speed ​​- Working from home but not giving speed, follow these tips
India does not have a 5G network, but 5G smartphones are starting to be launched. The launch of 5G smartphone in India has started by the Chinese smartphone manufacturer Realme with its smartphone Realme X50 Pro 5G. At the same time, Vivo's sub-brand iQOO has also launched its 5G phone iQOO 3 in India. In such a situation, there are currently two 5G smartphones in India, including Realme X50 Pro 5G and Iku 3 5G. Now the big question is that in a country where people are not getting 4G network in the manner, what is the point of launching 5G smartphone there?
What is 5G network and what are its benefits?
The atmosphere of 5G will be ready. It is also believed that there is an advantage of bringing a 5G phone two years before people reach the network. According to him, by the time the 5G service reaches the people, by then the phone prices will also be reduced.
A few years ago Xiaomi was the first company to bring 4G phones to India. And now, the second Chinese company (Reality) has launched the first 5G phone in India. Reality launched its first 5G smartphone 'X50 Pro 5G' in India on Monday. Its initial price has been kept at Rs 37,999.
Madhav Seth, CEO of Reality India said, "We are proud to launch India's first 5G, Superfast, performance-driven smartphone Realme X50 Pro 5G."
10 Security features of Android phones !! Must be Aware
The fifth generation of mobile Internet is a 5G network whose speed will be much higher than 4G. Its major advantage will be in video streaming and data transfer. The 5G network would be the biggest example of better use of radio spectrum. After 5G, you will be able to watch 8K videos on mobile. People will get high-speed internet which will be a boon for smart city and smart home. Speed ​​up to 45 Mbps is currently available on 4G but the speed of 5G network can be up to 20 times more. The 5G network will operate on the high frequency band ie 3.5GHz to 26GHz or above.
Prabhu Ram, head of industry intelligence group of Cyber ​​Media Research (CMR), on the launch of 5G smartphones in India ahead of time, says that 4G-enabled smartphones with 5G support will attract those who love the latest devices. There is not much difference between the price of 4G and 5G mobiles. In such a situation, looking at the future of 5G, people will buy 5G smartphones, so that they do not have to upgrade their 4G phones to 5G within the coming year. At the same time, the question is that when there is no 5G network in India now, then why are smartphone companies like Aiku and Reality launching 5G smartphones?
Actually these companies want to cement their place in the 5G mobile market, so looking at the future of 5G, 5G support smartphones are being introduced in India. It is also true that 2021-22 will be the 5G market in India. In such a situation, these companies have already started preparing for it. Cyber ​​Media Research believes that by 2025 the shipment of 5G smartphones in India will reach 14.4 million.
There is no option other than Snapdragon 865
Tech expert and YouTuber Abhishek Bhatnagar says that chipset maker Qualcomm is deliberately forcing mobile companies to launch mobiles with its 5G-supported processor Snapdragon 865, as any smartphone company can with its latest processor Would like to present In such a situation, Qualcomm is taking advantage of this, because if Qualcomm offers a processor with 4G support, it will sell cheaply but it will get a good price for 5G.
To understand this with an example, Veeco's sub-brand Iku has introduced iqoo 3 in three variants. All three variants have the same processor Snapdragon 865, but only one variant supports 5G, why? The answer is that 5G modems have been disabled in iqoo 3 cheap (4G) variants, due to which the company has to pay less for Bureau of Indian Standard (BIS) certification, so this variant is cheaper. Explain that the X55 5G modem for 5G has been used in the Snapdragon 865 processor.