If the Aadhaar Card is lost and there is no registered mobile number in it, then the problem increases even more. But you can find your Aadhar card once again. How can you get the Aadhaar Card again, even if the registration number is not passed.
Must Read: UAN: Easy guide to check Universal Account Number
Aadhaar Card is an important document, there are many things that are not possible to be done without Aadhaar Card. No government work is possible without Aadhaar Card or unique identity number.
Aadhar Card getting lost ? Order Reprint Aadhaar Card
Aadhaar card has been lost and there is no registered mobile number with us, get a new card like this.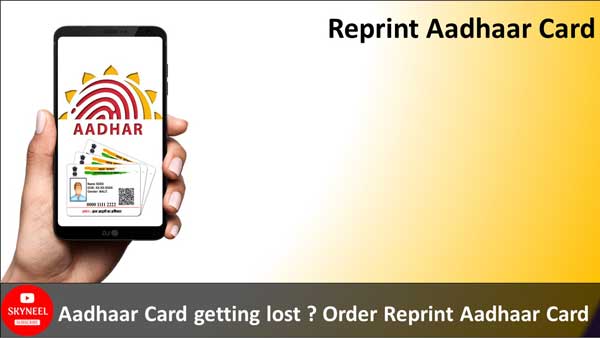 Whether to pay income tax or apply for PAN card. Aadhaar number is required for everything. In such a situation, if the Aadhar card is lost then the trouble increases. The problem gets aggravated even when you do not have a register number. Now you do not have to worry because today we will give you information about how you can get the Aadhaar card again even if the registration number is not passed.
You do not need to stand in lines for hours, but online you can easily achieve it. For the information of the people, let us know that for reprinting the Aadhaar card, a fee of Rs 50 has to be paid. During the process you will receive the OTP, so if you have a register number then it is a good thing, but if the register number is not present then it is not a matter of concern.
Must Read: Car care in lockdown: Tips to keep car safe in coronavirus lockdown
Aadhaar card is an identity card issued by the Government of India to citizens of India. It has a unique 12-digit number issued by the Unique Identification Authority of India (UIDAI). This number will be the proof of identity and address of the person, anywhere in India. Received by Indian Post and UIDAI. The e-Aadhaar downloaded from the website of the same is equally valid. Any person can enroll for Aadhaar provided he is a resident of India and UIDAI. Completes the verification process set by, regardless of its age and gender.
Each person can enroll only once. Enrollment is free. Aadhaar card is only an identity card and is not a certificate of citizenship. This card proves the unique identity of each person based on demographic and biometric.
Way to print Aadhaar Card
1) The first thing to do is to visit the official website of Unique Identification Authority of India (UIDAI) www.uidai.gov.in.
2) On the homepage of the website, the option of Order Aadhaar Reprint (Pilot Basis) appearing in the section with Get Aadhaar will appear. Click on it.
Must Read: Wi-Fi Speed ​​- Working from home but not giving speed, follow these tips
3) After this you have to click on Aadhaar number, Security code and Request OTP. Note that here you will get two options – If you do not have a registered mobile number, then click on Send OTP after ticking Do Not Have Registered Mobile Number.
4) After clicking send OTP, OTP will be found on the mobile number, insert it in the OTP box on the right side of the screen.
5) This Card preview show will be done after registering OTP. Information like name, date of birth and address etc. will be shown in the preview. The thing to note is that if you have not logged in with the registered mobile number, then after entering OTP, you will not show the preview of Aadhaar card.
Must Read: How To Secure Your Google Account With Android Smartphones
6) After this you have to click on Make Payment. There will be a charge of 50 rupees, you can pay by debit or credit card, internet banking or UPI through any of these mediums.
7) After payment, this Card will reach the address given in the Aadhaar card.