Facebook is very popular free to use social networking website. There are billion of users daily surfing on this website. But sometime most of the person are frustrated with regular notifications. In this guide we have to discuss how to adjust or turnoff Facebook notifications.
Facebook is free to use social networking website. Facebook allows his registered users to create profile, upload any photo, video send any messages to others. It is available in 37 different languages for his users. After download and install Facebook app you will get regular notifications from the Facebook on your mobile.
Must Read: Google Chrome secret tips and tricks 2016
You can receive a birthday, video, audio, image or other type of notification messages. Due to get these regular notification you important work is disturbed. So, you have to know how to adjust or turnoff Facebook notifications on your phone.
How Do I Adjust or Turnoff Facebook Notifications
If you relay frustrated with regular Facebook notifications then you have to know the simple process which helps you to adjust or turnoff Facebook notifications. You have to take few given simple steps to do this job, have a look.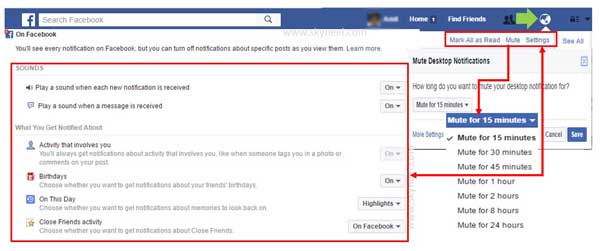 Step 1: Open you registered Facebook account on your Mobile, Laptop or Computer.
Step 2: Click on the Notification icon which is located on the top right corner of active Facebook window. You will get three options in the Facebook notification window.
Mark All as Read: This option mark all un-read messages or notification as a read.
Mute: This option allows you to mute the notification messages for specified minutes or hours.
Must Read: How to use Important Facebook Shortcut Keys
Settings: Settings option allows you to quickly turn off or change the Facebook notification settings. If you don't want to see any specific Facebook notification then you have to disable that notification.
I hope after reading this guide all registered Facebook users who has to face this type of problem get the relaxation. They can easily adjust or turnoff Facebook notifications from his Mobile or Computer or Laptop. If you have any suggestion or query regarding this guide then please write us in the comment box. Thanks to all.