Rather than making investments on different things, it's crucial that one puts a plan in place to meet child's education needs. In this article will discuss few simple steps which helps you to build a solid child education plan.
Must Read: Life Insurance – Why understanding benefit when buying life insurance?
Providing children the ideal opportunity for learning and development is foremost among any parent's goals. Therefore, it's necessary to carefully plan a children's education fund. When your child is ready to go to college, you will be ready to invest right amount of money and won't be awed by the high costs of education. Here are some simple steps to take while planning your child's education fund by making proper child education plan.
Child Education Plan
Thankfully, for parents whose children are about to join a college or want to go abroad for higher education, but are shortage of funds, child education loans come to their rescue.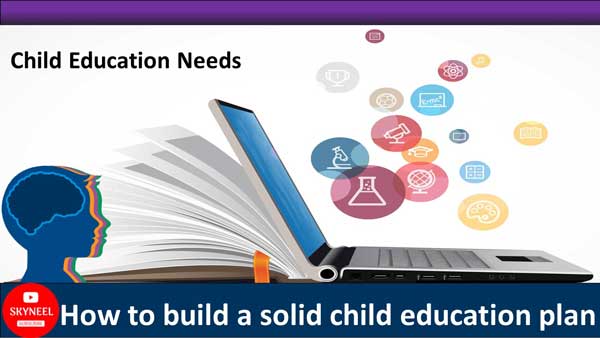 However, you should depend on education loans only to bridge the gap between your savings and the actual requirement. You must have to to build a solid child education plan for your small children's. So, if your children are still small and have a few years before funds will be needed for them, here's how you can self fund your child's education.
Child Education Needs
Child education plan very important for us as per watching future education planning of your children's.
Must Read: Personal Loan: Is Getting a Personal Loan a wrong Idea?
Waste no time
Planning for your child's education is a long-term financial goal. The best time to start planning for your child's future needs is when he or she is born. Assuming your child will go to college at the age of 18, you will have nearly two decades to create the right-sized fund for your child's need. The effect of compounded growth will allow you to achieve this goal with small, monthly contributions.
Plan for inflation
With inflation, higher education becomes more expensive each passing year. In lasy year 2018, a premier business school raised the fees for its flagship two-year course to Rs 21 lakh. Before 11 year back in 2008, the same course cost Rs 6 lakh. Thus the cost has grown at an average rate of about 13%. Assuming a similar inflation rate, the same course may cost Rs 69 lakh in 2028. While calculating your child's education funding needs, it is important to assess the future costs of education.
Put a plan in place
One needs to put a plan in place by setting up a target amount for child's education needs. The world is witnessing newer types of courses and it might be difficult for you to zero-in at the career option which your child might take up in the future. Still, to make an informed start, identify 2-3 career options and find out their current cost. Inflate it by considering a conservative inflation of 8 percent per annum for the number of years after which the child would require funds.
Must Read: HRA Exemption – How to claim HRA during filing ITR
Avoid low returns investments
Children's education is typically a long-term goal, and as seen from the above example, there is high cost inflation here as well. Therefore, you should invest through instruments that provide inflation-beating returns. A long investment tenure allows you to take moderate levels of risk, which can potentially produce high long-term returns.
For example, the 10-year returns on equity mutual funds is 11.80%, well higher than the rate of inflation, as well as returns from small savings schemes such as PPF. With a long-term investment plan through high-reward instruments, you can recover from periodic market fluctuations and emerge with the desired corpus in the optimum time-frame.
So, if you invest for Rs 50 lakh in 15 years, you can invest either Rs 10,000 a month with a returns expectation of 12%, or Rs 15,500 with a returns expectation of 7%. The first option is easier on your pocket.
Essentials
For better management of funds, create separate portfolio for child needs. If you have more than one child, also earmark funds separately. You must have to create separate buckets of investments for education costs that will arise in the short term, medium term and long term, respectively. Assign separate regular savings to each bucket and track them closely.
Must Read: How to effortless zip and unzip files on iPhone or iPad
Start small and step up
It's easy to be daunted by the astronomical money requirements. However, while investing towards any goal, you should implement the concept of stepping up. For example, you earn Rs 50,000 today and save Rs 10,000 per month. Next year, if your income increases by 10% to Rs 55,000, you should increase your savings by 10% to Rs 11,000. Stepping up your investments each year allows you to start with baby steps when your income is small, to bigger steps as your income grows.
Child Ulips
One may even consider investing through child Ulips with the waiver of premium feature to ensure that the child gets the required amount at the desired age. Be invested in the equity fund option of child Ulip to reap optimum benefits over the long term. As a parents or guardian, ensure you have adequate life insurance preferably through pure term insurance plan so that any unfortunate incident does not derail don't effec on children needs.
PPF for Child Needs
PPF Stands for public provident fund. This is one another best option for investing for child needs by opening a PPF account with the child's name. PPF is a 15-year scheme and would help create a tax-free corpus for the child. As and when the child needs funds, withdraw partially anytime after sixth year i.e. start of the seventh year. Once the child becomes adult, the contributions may be made by the child too and the same account may be extended indefinitely.
Must Read: How to Know Your Phone Number Blocked by Someone else?
However, remember that PPF is a debt investment and hence inflation-adjusted return would be low in it, thereby impacting wealth creation. Also, the combined limit for parent and child PPF accounts is Rs 1.5 lakh per annum.
Insure yourself
Life insurance should be seen as a protection cover for your family first, though it is also popularly used as an investment. In case of your untimely demise, your life cover should help replace your income, keep your family afloat financially, and help your children achieve their life goals. Your life cover should be at least 10-20 times your current annual income. With a term insurance plan, you can achieve this coverage requirement and ensure financial safety for your family even in death.