Conditional Formatting is an important command which allows you to apply different kind of formats on selected cell or range of cells as per requirement. In this post we discuss about how to apply formatting with the help of This facility only on text entries on selected cell or range of cells in excel. It is a very useful technique used to highlight text from selected ranges of cells using condition formatting facility in excel.
Meaning of Conditional Formatting:
This feature in excel is used to allow or apply different kind of formatting on selected range of cells in active sheet like set background colors, borders, shading, apply styles on font that match certain given conditions.
Must Read: VLookup function with two lookup values in Microsoft Excel
For example, if you have a large database and you want to highlight or apply formatting only on text entries in that case you can use conditional formatting facility in MS Excel.
Note: You can also remove conditional formatting from entire sheet or selected range of cells by clicking on the Home Tab >>> Click on the "Conditional Formatting" option in the "Styles" group >>> Click on the "Clear Rules" option > Select any required option either "Clear Rules from Selected Cells" or "Clear Rules from Entire Sheet".
Create the following sheet in excel. (Before Conditional Formatting)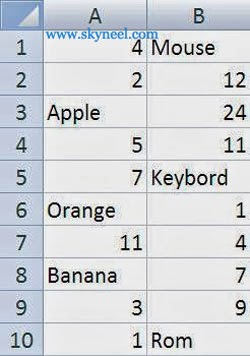 1. Select the range of cell from A1:B10
2. Click Home Tab -> Conditional Formatting -> New Rule -> In New Formatting Rule box, Select Use a formula to determine which cells to format in select a Rule Type category.
3. Now type following formula =ISTEXT(A1) in Format values where this formula is true box.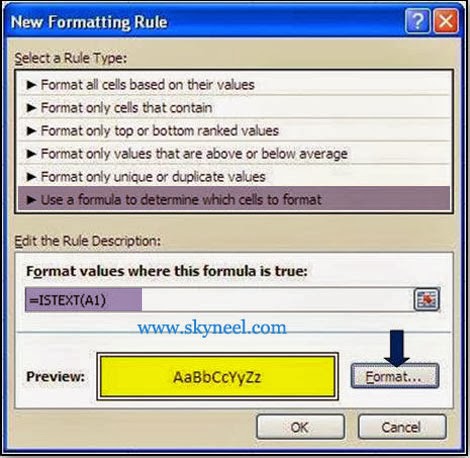 5. Click Format button -> Fill -> Select any color which you want to fill & set any type of border then click Ok -> Ok.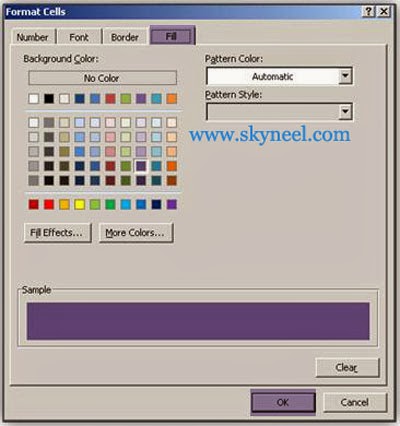 (Excel Sheet After Applying Condition Formatting on Text Entries in)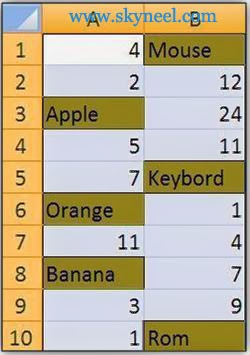 Must Read: How to adding a leading zero value in MS Excel
I hope you like this post. Give your important suggestion in the comment box and also share this article with your friends to show your knowledge in excel. Thanks.