With the help of Customize Default Saved Settings in MS Word, you quickly get yourself required settings just like page size, margins, font size and many more, each time when you start a new document. When you create any new document you can view these default setting. When we open a new page or create new document in MS Word it automatically display page by its default setting. There are two way from which you can set or change default settings of word either you can change normal template or create new template.
You can easily change these default setting for each new document by modifying "Normal" template setting. When you are making any kind of changes in this template it automatically affect on the blank documents.
Must Read: How to show or hide hyperlink field codes in MS Word
By default page settings of Ms Word
When you create a new document in MS Word 2007 or above, you get the followings default settings of your page:
Paper Size: Letter size Width – 8.5" Height – 11" (8.5*11)
Orientation: Vertical or Portrait
Font Name: Calibiri (Body)
Font Size: 11
Styles: Normal
Style of Font : Regular
Spacing between Lines : 1.15
Text Alignment: Left
Paragraph Spacing (After) : 10 pt
Font style: Regular
Font Color: Automatic
Margin: Normal [Top, Bottom, Left & Right Margins are 1″]
These are the by default settings of Microsoft Word. Each person can easily change or change the default settings of MS- Word document.
On the File menu, click Open.
Open the Normal template by double click on Normal.dotm.
In the Normal template, make the changes that you want.
Save and close the Normal template.
Process to Customize Default Saved Settings in MS Word:
In the Microsoft Office there is a "Default" button given in the dialogue boxes. If you want to change default settings from a dialogue box, you can click on the "Set as Default" button to make it default. These default settings differ in different versions.
Example:I want to show you how could you easily updating the default settings of Ms Word with an example:
1. Run Microsoft Word by given two methods:
2. From Start ->All Programs -> Microsoft Office -> Word or, You can also Press WIN + R Key to open run box then type "winword" then press enter.
3. Open the Page Setup dialog box from Page Layout tab.
4. Set the margin as your requirement like: 1″ for top, bottom, left & right margins.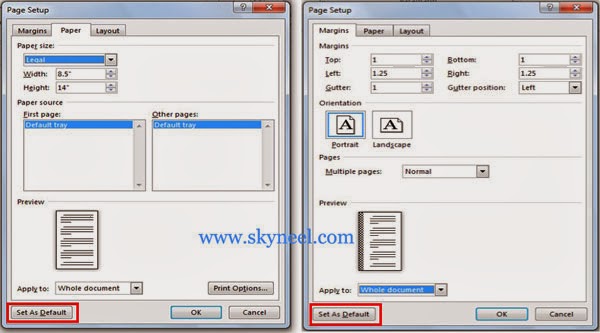 5. Choose paper size like Legal, set font "Bodoni MT", Font Style "Italic", Soze "14" If you want these settings for all of your documents as default, and then press the Set as Default button at the lowest left corner. Press Yes button to given final confirmation.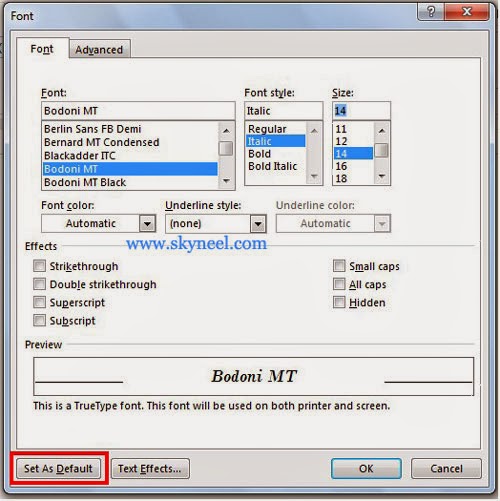 Must Read: How to type Indian Rupee Symbol in Microsoft Word
I hope you like this Customize Default Saved Settings in MS Word guide. Give your important suggestion in the comment box and also share this article with your friends to show your knowledge in word. Thanks.