Hello friends, lot of time we have to write any important notes in our personal diary, keep safe our important photos and other things in our albums but main problem is arise when your family member or friends want to view any photo or notes then one question arise in our mind how could you send these photos, notes to other users instantly in that situation you have a single way to send any image or notes by the email to other users.
But today we discuss one more interesting thing of Google from which you will be able to store and share your important images, notes, and list, create coloured notes and labels, and many more things from your friends or family members either on our computer or android smartphone. Today we have to discuss about an important feature which is very popular by the name of Google Keep. It is very helpful when you want to plan a surprise party for your friends or family members then you have to immediately generate any colorful party notes, create list of your invited friends and also set alarm as per requirement all these things are done very easily with the help of Google Keep feature.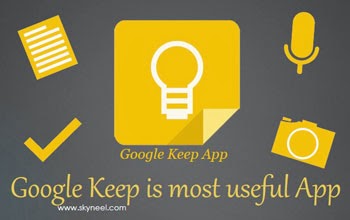 What is the Google Keep?
Google keep is developed by the Google which is used to send colour notes, images, create any lists, voice recording messages for his friends and family members. You will be able to set any reminder which is based on time or location for any type of notes. This feature is used to immediately capture and share all thoughts or list which is on your mind and set any reminder for a particular time or place. This feature is working on your android mobile phones and also used for your computer both. This feature allows to all users to convert all shared text notes into a single check list as per requirement.
Must read: Safe and secure your device with Android Device Manager App
Features of Google Keep:
There are few important features of Google Keep are given below:
Google Keep is used to add or create any notes, images, lists & also record any voice message.
Google Keep is used to set a reminder for any place or any time.
Easily share your ideas, notes, images and list with your family members and friends.
Convert one or more text notes into a single check-list.
Easily runs on different platforms like computer, laptop, tablet or any Android smartphone.
Allow users to create copy of any notes or image.
It allows you to easily switch the mode of all either in list view or in Grid view.
Set title and note and any reminder for inserted one or more images.
Provide facility to immediately undo last action which you done.
Provide facility to arrange your list or images by drag and drop option with the help of mouse.
Provide facility for Android users can switch notes, images or list either in single or multiple column view.
You can easily download Google Keep from Google Play Store. It is user friendly app which is already downloaded by the different users on 10 million times. If you want to download this feature on your android mobile phone then you have to click on this link click here.
If you want to add Google Keep immediately in your Google Chrome then you have to click on this link click here.
If you want to use Google Keep on the Web with the help of Desktop PC, Laptop or Notebook then you have to click on this link click here.
I hope this Google Keep will help you to easily create your color notes, list, images, audio messages and many more to share your family members and friends. Try it on your android smartphone and computer both. Thanks to all.