Most of the peoples who are using WiFi network are forgot his WiFi router password and they are trying to enter his login id and password but your account is not opened due to filling wrong password. Most of the person configure his WiFi network password first time they will fill the password on his device about they don't have to write what password they have to set during configuration and after some time they will forgot his WiFi router password completely.
We already discuss what is the WiFi and how it works in your device in previous article. In that situation you will be frustrated and one question arise in your mind how to recover your forgetting WiFi router password. To overcome this kind of problem either you have to use any software or app to recover forgotten WiFi password or you must have to call any expert to reset your WiFi router password. Lot of person doesn't have complete knowledge of network and router in this situation they have to call any expert Network Administrator to reset his WiFi password. But there is no need to worry after reading this simple guide you will be able to easily Recover Forgot Wi-Fi Password in few simple steps.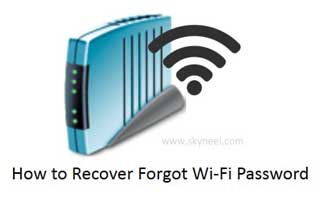 Steps to recover forgot Wi-Fi Password:
If you want to show your WiFi password in the Windows Operating system then you have to take these given few simple steps:
Step 1: Turn on your computer or laptop or tablet.
Step 2: Go to your system Control Panel by clicking on the Start Menu > Click on the Control Panel option > Double click on the Network and Sharing Center option. Normally Network and Sharing Center Option is used to check status of your networks, change or reset your network settings and also set preferences for sharing files and printers. You will get a list in which have all wireless and wired network lists from which you can access of internet in your system.
But if you are working on the Windows 8 OS in that case you have to press WIN+C shortcut key then search for Network and Sharing Center option.
Note: Always keep in mind and these steps or not working for your personal WiFi network and also if you are working in your office or want to view any other users WiFi password which is name shown in your range then these steps are not working.
Step 3: Click on the Change adapter setting option in the Network and Sharing Center dialogue box >Select your WiFi Network Connection option which you have to use then press right mouse button or you can also press Shift+F10 shortcut key to open the sub menu then click on the Status option > Click on the Wireless properties option > Now, you will get two new option in another window which names are Connections and Security > Click on the Security option.
Step 4: When you click on the Security tab you will get three new options which are Security type, Encryption type and Network security key. You will see that few asterisk symbols are shown in the Network security key box this is your WiFi router password which is show in encrypted format but if you want to view you password then turn on check mark Show Characters option which is given below. Now, you will be able to view your forgotten WiFi password.
Must read: How to secure your Android Device with 9 tips
I hope this guide will help of you recover your forgotten WiFi password. Keep these given simple steps in your mind but don't try this guide to access any other users WiFi password, because this guide is not helpful for you to access or recover other person WiFi password. Thanks to all.