Hi, friends billion of users must have to use different companies android smartphone which comes with latest technology and features. There are lot of apps which is available on the internet. These apps are very useful, free of cost and easy to use. Today we have to discuss about the most popular app which is known as Google Keep app. Google Keep app is small but most useful app for busy schedule peoples.
The Google Keep app is a good business tool and most important, it developed with Google. This app have to install in your Mobile. Google Keep a notepad that sync with Google Drive and you can use it for photo notes, voice notes, and check-lists. Google Keep a simple, easy, fast note taking tool for your Android phone. You can make your addresses list, shopping lists, phone numbers, and check-lists by this app. Google Keep has colourful layout and good user friendly user interface.
Must Read: Google provides Quickoffice app free for all Android and iOS users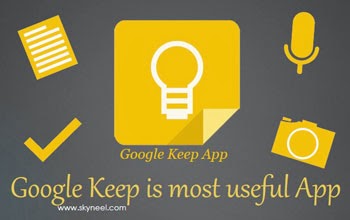 Google Keep app is small size app and  required 4.0.3 and upper Version of Android.  So download and Install from Google play store : Click Here.
Google Keep app features:
• You can easily make your notes, lists and use your phone to reminder photos.
• You can make voice notes from Google keep.
• Quickly make notes by the home screen widget.
• Describe your notes by color code, it helps you to find your notes later by colour code
• It has added check boxes features in notes and you can change your notes into a check-list with this adding check boxes feature.
• Google Keep sync with Google Drive, so you can use your notes anywhere.
Must Read: Open proxy server band site on your internet connection by Google
I hope you like this article and after reading this article you will be able what is the utility of Google Keep. With the help of Google Keep you will be able to easily make your photo notes, voice notes, and check-lists without any extra efforts. If feel any problem in this guide then please use comment box. Thanks to all.