Hi friends, today we are talking about issue of auto hide files and folders. Suddenly we are facing all file hide automatically in a pen drive or system, It is system error or virus. In this issue your Pen drive or Hard drive property shows data size, but you can not see any data in pen driver. We have two solutions of this problem first by the command and second by Smadav antivirus . Smadav antivirus scans virus and repair registry to fix all hidden files and folder.  It is free antivirus and easy solution of enable Hidden file option problem. First, we need "how to see hidden data"! Don't worry, let's see.
Must read: How to set Picture Password in Windows 8 step by step
How to show hidden files:
First of all click on the start button on your windows >>> And go to control panel >>> Now open the folder options >>> Click on the View tab, then ticks on shows files, folder and driver >>> and unchecked hide protected operating system file >>> Apply and OK.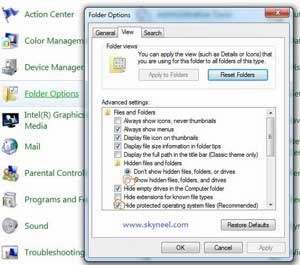 Now you see your hidden files and folder on your Computer, but if you can't able to unhide your file because unhide file option is disable, see in below picture. Don't worry, we are resolving this issue by using some command.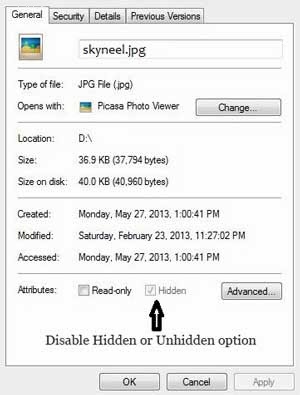 How to enable Hidden file Option for Unchecked to unhide files:
First option:
Step 1. Click on the start button >>> Now  Click on the Run for open Run box (You can open Run box by Press Window key + R button) >>> Type cmd command in the Run box and press Enter or click on OK >>> Now you will see a command prompt window.
Step 2. Type this command in Run Box attrib -s -h I:*.* /s /dThis command will unhide all files and folders of the drive I. If you want to unhide the folders of any other drive, then replace I with Different drive latter like C and C:data.
Must read: Solution of Printer spooler service problem in Windows xp,7 or 8
Second option:
Step 1. Download and install Smadav antivirus >>> Now connect your USB drive to your PC or Select infected file, folder and your computer drive >>> And click on the scan option.
Step 2. After complete scan process, click on Fix All button. Smadav antivirus fixes all registry issues, remove your PC virus and unhide your data. That's all