Hi, This is a tutorial to root Huawei P8 and install TWRP recovery. In this guide you will find all steps with image, therefore it is safe and easy method of root Huawei P8 and install TWRP recovery. Huawei P8 has HiSilicon Kirin 930/935 Octa-core processor along with 3GB RAM and 16/64GB ROM. This phone has 5.2 inches IPS-NEO LCD capacitive touchscreen with 10800 x 1920 pixels.
Huawei P8 is great phone and you must be root Huawei P8, because root allows for you to use a maximum of your phone without any restrictions. After root you will install custom Rom, apps, and setting in your phone. But before root you must read Root Advantage and Disadvantage by this post. Then after follow these steps to root your phone.
Preparation of Huawei P8:
1. First you should take a backup of your phone.
2. Your phone battery should be charge minimum 80%.
3. Make sure proper power backup of your PC.
4. Unlock bootloader of Huawei P8
Must Read: Find out which apps or games are draining Android phone battery
Download tool for root Huawei P8 and install TWRP recovery
Root Huawei P8 and install TWRP recovery:
Step 1: Download and install Huawei P8 ADB driver on your PC and enable Developer option and USB debugging mode on your Huawei P8 by this guide . Download and copy SuperSU Zip file in the phone SD card. Now download and extract TWRP Recovery and Fast-boot tool and move TWRP Recovery (recovery.img) file in the Fast-boot tool folder. Then press and hold shift key in the keyboard and right click in the extracted Fast boot tool folder and select "Open command window here". See in this image.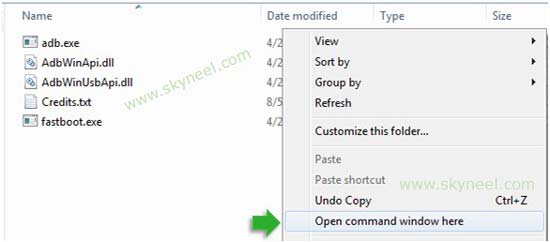 Step 2: Now connect Huawei P8 with PC via USB cable and type adb reboot bootloader to boot your phone in the bootloader or fastboot mode. if this CMD command is not work for reboot bootloader or fastboot mode, then switch off your Huawei P8 and press volume down and power button. You will get a vibration and your device will boot in recovery mode, then you select Reboot to Bootloader.

Note: Now your Huawei P8 in the bootloader or fastboot mode, So you type fastboot devices in the command window then press enter key. This command show connected device in the command window and you can see your Smartphone serial number.  If command window is not show your device serial number. Then install USB driver correctly or change your USB port of the PC.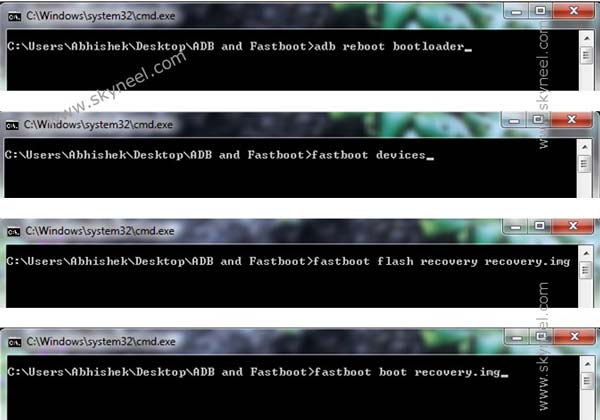 Step 3: If your Huawei P8 connected, then type fastboot flash recovery recovery.img command in the command window and press enter key to flash TWRP recovery on Huawei P8.
Step 4: Now type fastboot boot recovery.img to boot in recovery mode. Then tap on install tab or button and select "SuperSU.zip"file from your save location on your phone SD card and install this file.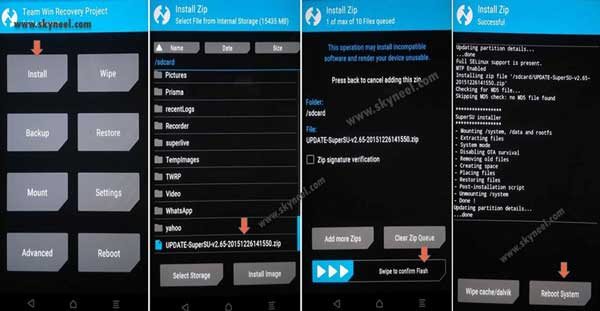 Now reboot your phone. If you want to check your Mobile rooted or not try this app Root checker.
Must Read: How to Disable the Screen Lock feature in Android phone
How to unroot Huawei P8:
It is must for you to know, how to unroot Huawei P8 Smartphone. When you feel that you don't want rooted phone, then you can easily unroot your phone by un-install root app. Here is simple steps to unroot your device. You can also see unroot process in this image.
Step: First of all open Su App from your app menu and tap on Setting. Now scroll and find "Full Unroot" option and tap on it. that's all.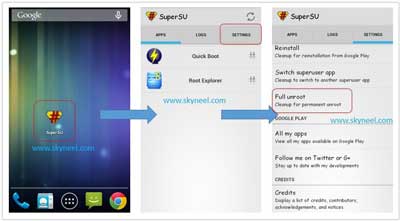 I hope you like this root Huawei P8 and install TWRP recovery guide from which you will be able to easily root Huawei P8 and install TWRP recovery without any extra efforts. If feel any problem in this guide then please use comment box. Thanks to all.
Note: I am not responsible if you make Mistakes and Bricked Devices.