Hello friends, At present time most of the mobile manufacturer companies launch budgeted smartphone which comes with different great features and latest technology. Today we have discuss on how to use Engineering mode code for Micromax and other Mediatek smartphone. This is very use full code for Micromax and other Mediatek (MTK) Smartphone.
Engineering code help to make change easy in our phone according to us. But you should carefully make change on your phone by the Engineering mode. If you want to make change Before change default setting in the mode then, you should write default setting in the notepad then after make change in the mode. This is very easy and useful for you. After reading this article you will be able to easily edit your Android Smartphone setting as per your need.
Engineering mode:
Step 1: Phone dial pad on your phone
Step 2: Type code *#*#3646633#*#* or *#4634#
Step 3: when you finish typing then you will see Engineer Mode on your screen.
that's all. See in this picture: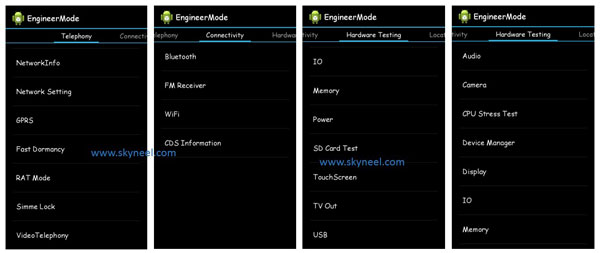 You can change in your Network setting, GPRS, Bluetooth, FM receiver, WiFi, CDS information, Audio, Camera setting and Display setting , YGPS etc. without root your phone by Engineering mode. But do be carefully. I am giving you an example of Engineer mode by increase speaker volume.
Must read: How to swap internal storage with the SD card in Android device
Like Increase speaker volume by Engineering mode:
1. Go to loudspeaker
2. Volume
3. Set max volume: from 128->150
Must read: Add Ringtones and Notification, Alarm & Massage Tones in Micromax A110
MHL-HDMI TV out:
Connect the MMX A110 to MHL adapter then to your TV through HDMI.
I hope you like this Engineering mode guide from which you will be able to easily edit your Android Smartphone setting. If you like this article or have any problem in this guide then please give your important suggestions in the comment box. Thanks to all.