YouTube recently added a new feature to with the name of Dark Mode. After going into this new theme, users will be seen in YouTube red and black colors. Due to black color, it is named as dark mode feature. In this guide, we will tell you how to activate or enable YouTube dark mode in your Android phone or PC.
YouTube's dark mode is easier on the eyes than the regular white background YouTube. YouTube's dark mode is available on its website as well as in the iOS and Android apps. YouTube is used around the world, where many people spend their free time for entertainment.
Must Read: How Can I Download and Save WhatsApp Status Video to Galary?
Throughout the day you will also be watching videos on YouTube, but hardly you know about this feature. Google introduced the this feature for YouTube users before sometime ago.
In this YouTube feature, you will love a brand new theme, which will be completely different from its old theme red and white. You can use this theme at night, which will not have much effect on your eyes and will be useful for your devises battery. After going into this theme, users will see YouTube in red and black. Due to this same black color, it has been named as YouTube dark mode feature. Dark mode feature is also known as night mode. In other words, you can also say that you can easily turn on YouTube night mode on Android phone.
YouTube Dark Mode
Enabling YouTube's dark mode on your web browser is very easy to do and will immediately provide you a better viewing experience. Many YouTube users do not know about this feature. In fact, the dark mode feature users are not visible to the front, due to this, the users do not even tell about it.
Must Read: Facebook Messenger Dark Mode – How to Active Dark Mode on Facebook Messenger
Well, this is a layout secret and you will need a little bit of information to use it. If you also want to activate Dark Mode in your YouTube, then your Chrome browser version should be version 67 or higher. Here we are telling you about the methods and benefits of using it. Most of YouTube user's want to know how to turn on dark mode on YouTube Android phone?
How to Active YouTube Dark Mode on Mobile and PC?
You can easily activate dark mode feature  in YouTube  at your mobile or personal computer. If you want to use this feature then first you must have to update your YouTube app at your mobile phone. Now, take few simple steps to activate dark mode feature on YouTube.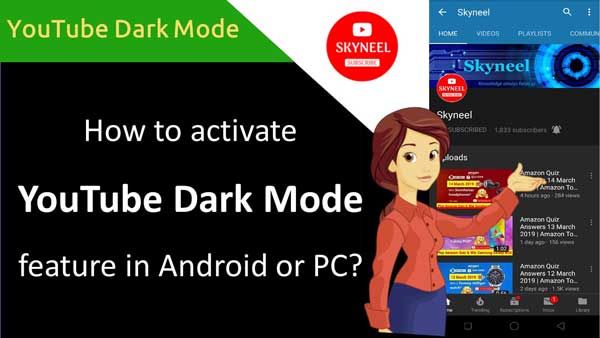 Step 1: Open the YouTube app on your mobile or computer. Now, sign in into your YouTube account with your registered mail id.
Must Read: How to Check Radiation level (SAR) of your Android Phone
Step 2: Click on the profile icon on the top corner and tap on the 'Settings' option. Under the Settings window just tap on the 'General' Options.
Step 3: General Options Window you must have to enable "Dark Themes" option. By default this feature is turn off in updated YouTube version. After turn on this feature latest dark mode theme is activated at your phone or PC. Now YouTube users will be seen the YouTube in white and black color options.
Benefits of Using Dark Mode
This feature is built keeping in mind the users who spend a lot of time on YouTube or Late Night YouTube. White and red theme YouTube in dim room light can damage your eyes. It would be better to work late night and long enough to use the dark mode feature at your device.