Most of the people's want to port their numbers to other network, due to poor network, slow internet, expensive plans and more bills. If you are also troubled by the connection of your current operator, then you can quickly port your number in Reliance Jio From Vodafone, Airtel And Idea. In this guide, we will tell you port your number in Jio From Vodafone, Airtel And Idea within in two minutes sitting at home.
Must Read: Jio Browser Fast, Lite Version Launched for Android Phone
Mukesh Ambani's Jio Company has worked on a number of unique schemes to entice customers across the country in the last two-three years. Due to various offers given by Jio, people have been attracted to Jio Company. The Jio Company at any time launches a plan or offers any offers in the old plan. Similarly, this time too Jio company has tried to do something different, which no other company has ever done. If you also have any issue with your telecom operator, then quickly port your number in Reliance Jio from Vodafone, Airtel and Idea in just two minutes.
Instant Port Your Number in Reliance Jio From Vodafone, Airtel And Idea
Jio Company is now trying to add the other company's customers to their families too. This means if you or any other people's who use a network of Airtel, Vodafone, Idea or any other company, they can now become members of Jio. The Jio Company is giving such users an opportunity to become Jio Family members. There is no need for users to change their old number, now all the work will be done in just two minutes at home. This process is also quite easy and users will not have to spend any money to port his number in Jio.
Must Read: How to check Reliance Jio Balance at Smartphone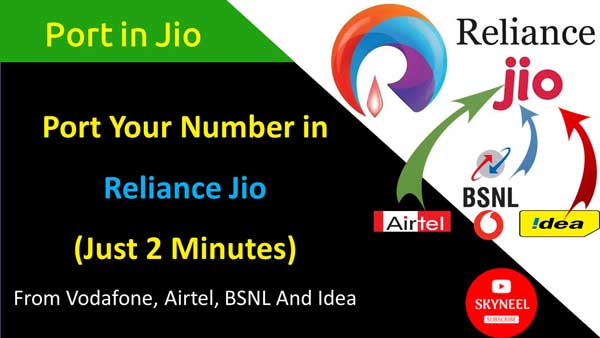 Now you can became Jio members by switching your telecom operator in just 2 minutes at home, without change their number and any help. This process is quite simple, for this, you must first have to go on Jio's official website. From here, you can change the network without changing your old mobile number. Let us know that this feature is for both prepaid and postpaid networks. Whereas, prepaid can also be changed in postpaid. Let us start how to port your number in Jio from other telecom operator from at home.
An easy way to port your mobile number in Jio
If you also interested to port your number into Jio take few given simple steps.
Must Read: How to activate YouTube Dark Mode feature in Android or PC?
Step 1: First visit www.jio.com.
Step 2: Now go to SIM page by clicking on "Sim Home Delivery" option. Fill your number which you want to port in Jio. Choose "Postpaid Sim", "Prepaid Sim" or "Pre to Post" option.
Step 3: Now you will get an OTP at your number, put it and move on. Details of Jio prepaid or postpaid will arrive at your mobile number.
Must Read: How to Check Radiation level (SAR) of your Android Phone
Now enter your area code i.e. PIN code and book your new SIM. After booking the SIM, you will receive an SMS, which will be the time-management of SIM delivery. Now, after finish all the process company deliver the SIM at your home address.
This is a fairly easy way to make you easily change your number in Jio with an easy steps. We hope that you may have liked our article how to port in Jio, if you feel any issue then write us via comment box, we will definitely solve your problem.